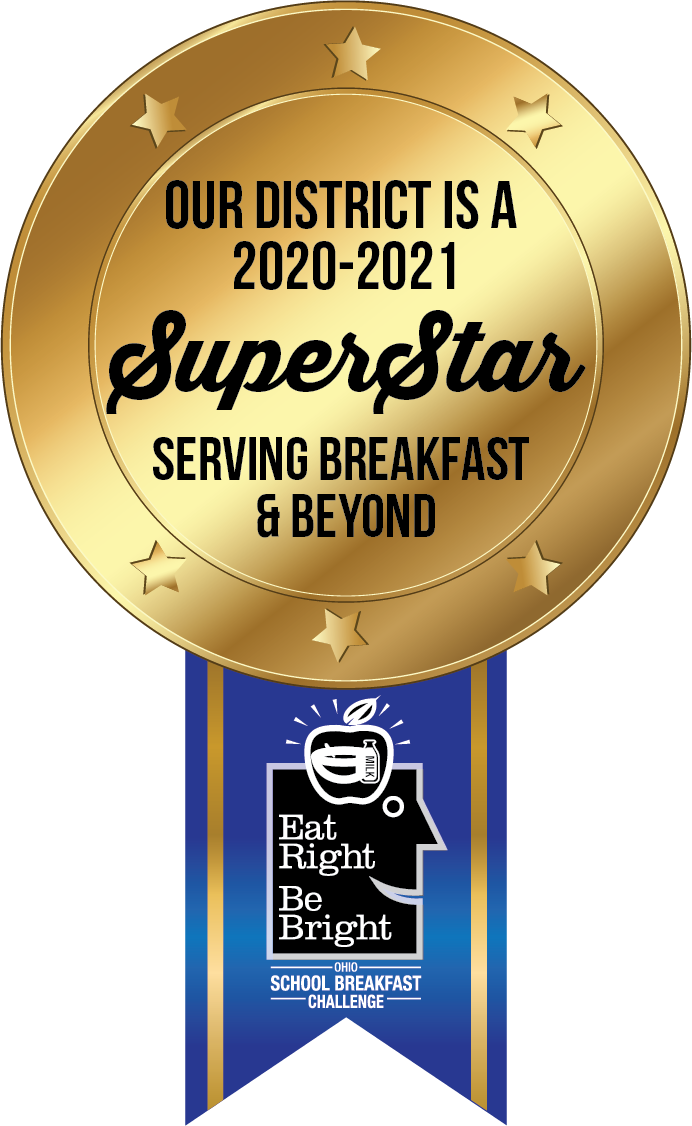 Jerri Arthur, DTR, SNS
Supervisor of Food & Nutrition Services
651 E. Home Rd.
Springfield, Ohio 45503
Phone: 937-505-2870
Welcome to the Springfield City Schools Food and Nutrition Services Department where we inspire our students to learn positive eating habits. We strive to offer well-balanced meals, encouraging a healthy lifestyle, while developing healthy minds and bodies.
The Food and Nutrition Services Department is made up of a team of seventy food and nutrition professionals that are dedicated to students of the Springfield City School District. We proudly prepare and serve over 1,500,000 meals per year to the children of our school district. We support learning by promoting healthy habits for lifelong nutrition and fitness practices.
Springfield City School District received "Super Star" distinction and a medallion from the Ohio School Breakfast Challenge for the 2020-2021 Breakfast & Beyond Award. The SCSD received recognition for their excellent, innovative and collaborative approach related to the important work of feeding students during the pandemic. School meals give students the fuel they need to keep learning throughout the school day.
Cost
For the 2022-2023 School Year Springfield City Schools is participating in the Community Eligibility Program which offers all students no cost breakfast and lunches regardless of the families income
Payment on Account
The Food and Nutrition Department has a computerized student meal accounting system which allows parents the option of placing money on each students account for snacks and a la carte items. The money is placed on the students account, then, as they choose snacks or a la carte items, the cost of these items will be subtracted from the balance, allowing the student to purchase additional items until the account reaches zero. If a parent wants to remove the excess amount from a student's account, the parent can fill out a request and the treasurer's office will issue a refund check. For safety and accountability reasons, we are not permitted to hand cash back to the students or their families.
We accept cash, money orders and bank checks, however we do not accept personal checks.
Charge Policy
Since we serve no cost breakfast and lunches, we have a no charge policy in all schools. Snacks and a la carte items may not be charged to the students account.
In accordance with federal civil rights law and U.S. Department of Agriculture (USDA) civil rights regulations and policies, this institution is prohibited from discriminating on the basis of race, color, national origin, sex (including gender identity and sexual orientation), disability, age, or reprisal or retaliation for prior civil rights activity.