Registration OPEN for 2023-2024!
The Springfield City School District has partnered with Right At School for before and after school care for our students. Before school care opens at 6:30 a.m. After school care closes at 6:00 p.m. Please reference the table below for your child's RAS building site.
Homework Time

180 Disguised Learning Activities

Self Directed Learning

The Right Moves Fitness Blast

Games & Sports

Social Emotional Learning and Fun

Townhall & Junior Educators

The Right at School Gives Back Program
Please refer to the RAS website for pricing and enrollment guidance.
| Child's School | Before & After School RAS Site |
| --- | --- |
| Fulton | Fulton |
| Horace Mann | Horace Mann |
| Kenwood | Horace Mann |
| Lagonda | Lagonda |
| Lincoln | Fulton |
| Perrin Woods | Fulton |
| Simon Kenton | Simon Kenton |
| Snowhill | Snowhill |
| Snyder Park | Lagonda |
| Warder Park-Wayne | Lagonda |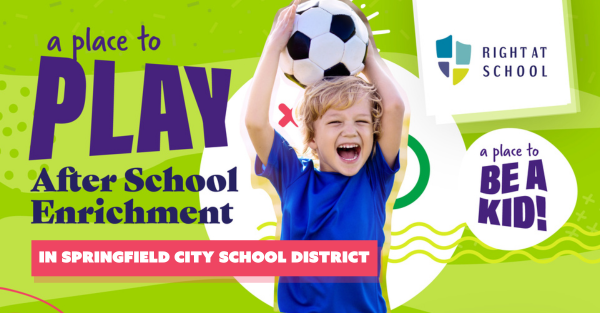 | Before School | |
| --- | --- |
| 5 Days/Week | $140/Month |
| 4 Days/Week | $127/Month |
| 3 Days/Week | $111/Month |
| 2 Days/Week | $83/Month |
| 1 Day/Week | $51/Month |
| After School | |
| --- | --- |
| 5 Days/Week | $220/Month |
| 4 Days/Week | $200/Month |
| 3 Days/Week | $174/Month |
| 2 Days/Week | $130/Month |
| 1 Day/Week | $80/Month |
| Before & After School | |
| --- | --- |
| 5 Days/Week | $320/Month |
| 4 Days/Week | $291/Month |
| 3 Days/Week | $253/Month |
| 2 Days/Week | $189/Month |
| 1 Day/Week | $116/Month |