Springfield City School District: By the Numbers
Vision Statement
One Community:
Inclusive.
Compelled.
Future Ready.
Mission
Foster a consistent, collaborative learning culture where each student is engaged, encouraged, and empowered to achieve full potential.
Values Statement
We are:
Well-rounded
Inclusive
Learners
Dedicated
Collaborative
Ambitious
Trustworthy
Service Oriented
Portrait of a Springfield Graduate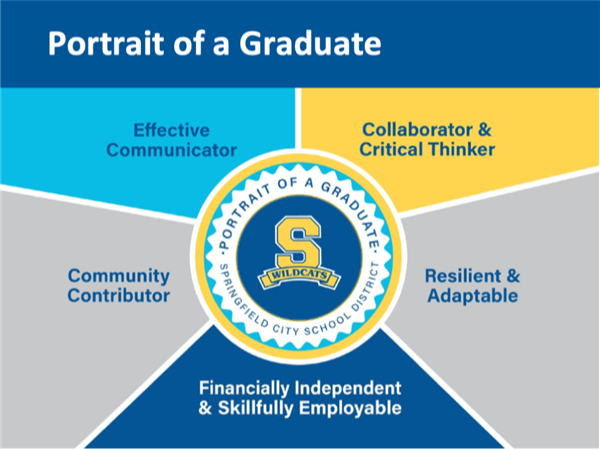 The Springfield City School District serves approximately 7,700 students pre-school through grade 12 in a vibrant learning community of 59,500 residents in west-central Ohio. The dedicated and professional staff includes over 500 certificated staff members and approximately 500 support personnel. We serve our students in 17 state of the art buildings.
Our students represent our whole community and we value the racial, ethnic and socioeconomic diversity of our student body. Our academic and extracurricular aim is to ensure academic growth for students at all abilities. We continue to innovate to support personalized, customized learning. While we offer unique options at all grade levels, our middle school and high school students have seen the most striking growth in educational options as we now allow students to blend traditional coursework, on-line coursework, and experiential learning.
Portrait of a Springfield Graduate
Effective Communicator

Collaborator & Critical Thinker

Resilient & Adaptable

Financially Independent & Skillfully Employable

Community Contributor